REIT
SICO was mandated in 2016 as Lead Manager, Sub-Investment Manager, and dedicated Market Maker for the BD 20 million Eskan Bank Realty Income Trust – Bahrain's first Shariah-compliant real estate investment trust (REIT) and the first to be listed on the Bahrain Bourse. Open to retail and institutional investors, the REIT has an attractive, unleveraged target of 6.5% in net distributable income payable semi-annually. It offers lower risk and volatility than stocks and bonds due to long-term rents, prime asset backing, and no current leverage. The REIT provides investors with an alternative asset class that gives them an opportunity to invest in a stable diversified property portfolio and liquidity by being able to easily sell units on the Bahrain Bourse.
Key Facts
Eskan Bank is Bahrain's government-owned housing mortgage provider that continues to seek alternative forms of finance to develop Bahrain's housing requirements
Partnering with investors to fund Eskan's real estate projects is one such alternative form of finance pursued by Eskan Bank
In November 2016, Eskan and SICO announced the opening of subscriptions to retail and institutional investors in Bahrain's first REIT
The Eskan Bank Realty Income Trust (EBRIT) was launched at a Net Asset Value of close to BD 20 million, with a public offer of 73% of the units, or close to BD 14.4 million
EBRIT was listed on 2 January 2017 and expects a 6.5% annual distribution payable semi-annually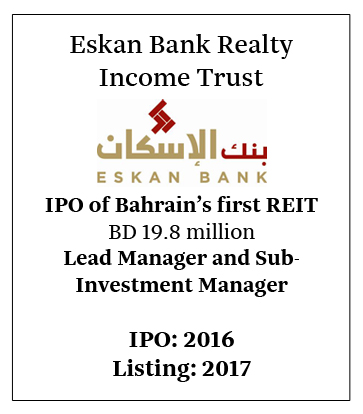 SICO no longer manages the Eskan Bank Realty Income Trust.