Equal Opportunity in the Workplace
Female empowerment and gender equality in the workplace are an integral component of SICO's core values. Since 2014, the Bank has been under the leadership of Najla Al-Shirawi, the Bank's first female CEO. In 2017, we established an Equal Opportunity Committee under the auspices of SICO's Charter for Gender Diversity. The committee is tasked with ensuring equal employment opportunities for men and women at SICO as well as identifying areas in which our policies, procedures, and practices can be improved to promote gender inclusion and diversity.
41% of managerial positions are currently held by women. SICO is proud to have a diverse Board of Directors that includes 30% women. Overall, 37% of SICO's total workforce is made up of women, with eight currently in leadership positions. The bank's equality initiatives are led by an Equal Opportunity committee created in 2017, that works to ensure equal employment opportunities and an ongoing enhancement of policies, procedures, and practices to promote gender inclusion and diversity.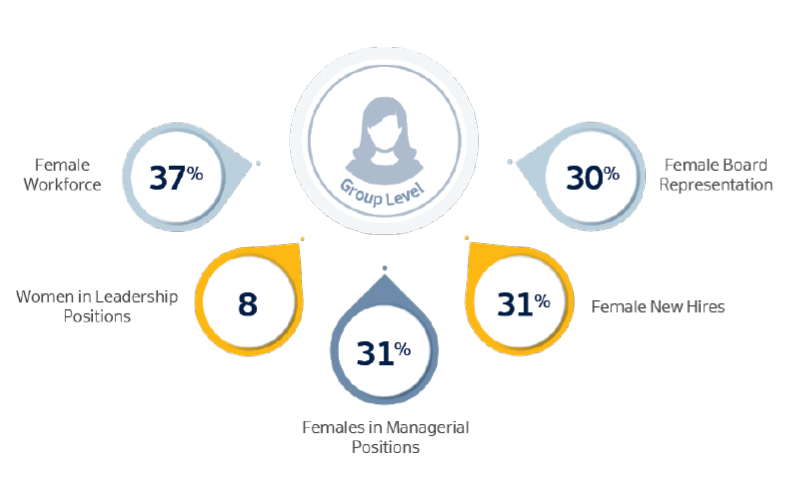 SICO's HR department implements an open-door policy to encourage employees to voice their opinions and to promote a culture of transparency, develop trust, and facilitate with the implementation of changes that positively impact workplace efficiency and productivity.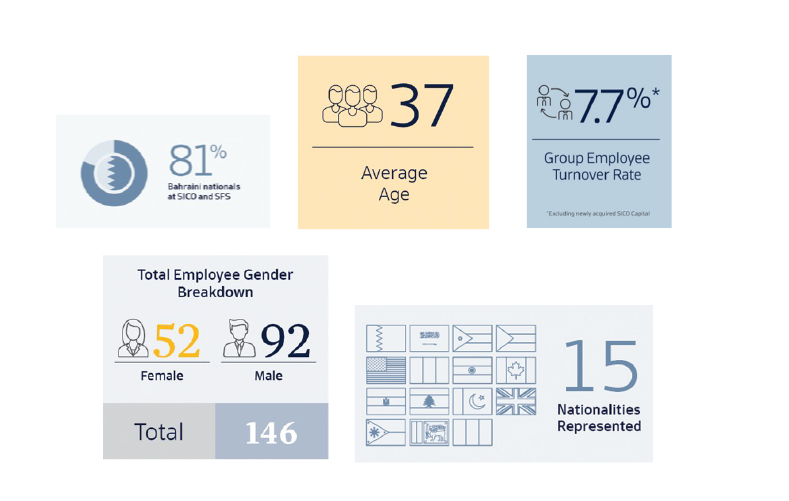 Trainings
Developing talent within the organization through mentoring and training is a top priority at SICO. Training courses covering everything from banking and finance to soft skills, leadership and management, risk, anti-money laundering, and diversity and inclusion were conducted over the course of the year in cooperation with leading global and local experts such as the Bahrain Institute of Banking and Finance (BIBF), Roshcomm, Bloomberg, Berkeley Law, and Thomson Reuters Compliance Learning, among others.
SICO employees participate in the CFA Society Bahrain's Qodwa Mentorship Program, which pairs candidates with experienced charter holders as mentors to help them work towards their academic and professional goals. The program, which is currently in its fifth round, has successfully paired over 70 mentors and mentees, trained more than 100 participants, and expanded across four countries.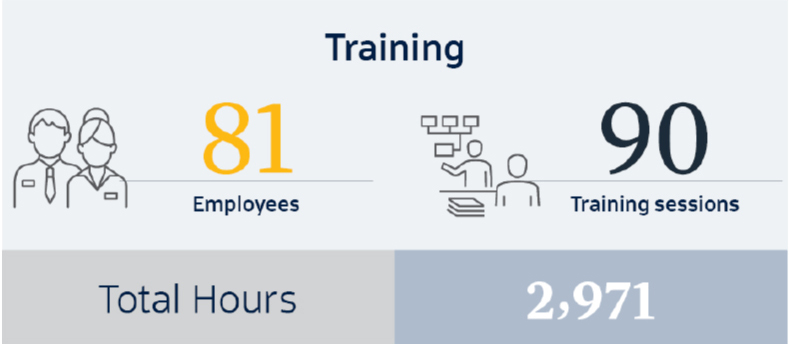 Benefits
SICO strives to be considered an employer of choice in Bahrain and actively works to offer employees an array of benefits that surpass the minimum requirements under Bahraini labor law.
The Bank has a work from home (WFH) policy that was adopted in 2021, allowing employees, on a case-by-case basis, to work 50% of the time from home. All employees are given the opportunity to work from home, especially those with chronic conditions, mothers, and pregnant women. All employees working from home are supported with the required equipment and/or technical support from IT to ensure uninterrupted workflows.
The bank's new employee saving scheme (ESS) allows employees to opt into a savings plan by designating a portion of their monthly base pay with a guarantee that SICO will match the amount with a cash contribution of a similar amount, subject to a maximum cap and a vesting period. Employees will be able to select one of three global options (aggressive, moderate, conservative) according to their personal investment needs. SICO's Global Markets team will invest the savings in diversified, low-cost liquid investments that are ring-fenced according to international best practice. The ESS, which is expected to officially launch in Q1 2023, was designed in consultation with multinational insurance company, Aon.
The bank additionally introduced Female Spouse Medical Insurance as an added benefit to employees in 2022. It also offers an array of additional support services in order to integrate family needs into the work environment. Among these services are:
1. Children study allowance (offered to Grade 3 employees and above)
2. Life insurance
3. Medical insurance covering immediate family members
4. Flexible working hours
5. Health club allowance (offered to Grade 4 employees and above)
6. Paternity leave
7. Enhanced building accessibility for people with disabilities
8. Inclusion of women and family needs in building design (such as including lactation rooms in offices)
Client Relationships
The team of dedicated and experienced professionals that make up SICO's Client Relations department work to oversee requests, respond to inquiries, and provide guidance to both existing and potential clients. The department also prioritizes customer experience by making gradual and measurable changes. The main purpose of the department is to build sustainable, long-term, and professional relationships with the Bank's customers. Client Relations has a wide and varied scope of activities, including managing and advocating for clients' needs with the Bank's different business lines; the on-boarding of new accounts as well as completing and updating all client KYC details to ensure full compliance with CBB regulations. Going forward, SICO's Client Relations department will continue to automate and to empower clients to execute transactions digitally.