SICO Asset Management is a leading boutique asset manager focused on GCC and MENA mandates. Backed by a team of highly-experienced industry professionals, the division has been able to consistently outperform regional markets by placing innovation and diversity at the core of its investment strategy.
SICO Asset Management's mutual funds and discretionary portfolios serve a wide range of investors, including institutions, sovereign wealth funds, family offices and private banks, and cater to variant risk profiles and investment objectives. The division's mandates cover conventional and Sharia-compliant equities, money market and fixed income securities as well as the first Sharia-compliant real estate investment trusts (REIT) listed on the Bahrain Bourse. The asset management team also manages several external funds on behalf of leading regional financial institutions.
Investment Philosophy & Process
SICO's bottom-up approach to investing places emphasis on stock picking rather than making country calls. Instead of indexing the portfolio to a benchmark, the Investment Manager's aim is to invest in fundamentally sound stocks that are trading below their intrinsic values. This provides the Investment Manager with additional flexibility to build exposure in sound companies, regardless of their weight on a given benchmark.
Our investment process is research-driven, whereby all investment decisions are made based on detailed and in-depth research and analysis. Portfolio managers and analysts rely heavily on proprietary research with all their investment decisions. The Asset Management team has developed a carefully cultivated network of c-suite executives from major GCC companies that gives them valuable insight into the companies and markets in which they invest.
Net AUM Growth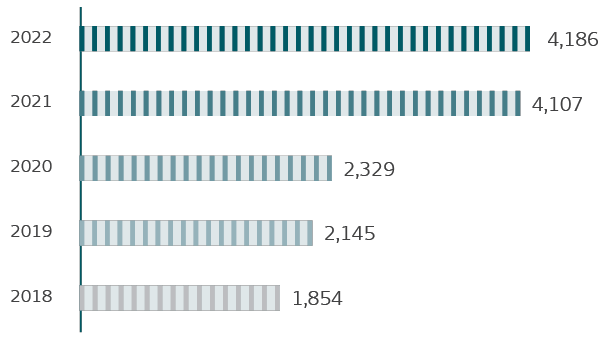 AUM by Asset Class