SICO believes that its most valuable asset is its people. One of the Bank's biggest competitive advantages over the past 26 years has been its hardworking and loyal team of talented investment professionals who are viewed as partners and active participants in the Bank's evolving growth story. SICO strives to create a corporate culture that values diversity, teamwork and open communication.
SICO prides itself on the diversity of its team, which is comprised of different nationalities, with 73% of employees being Bahraini nationals, among whom 36% are women.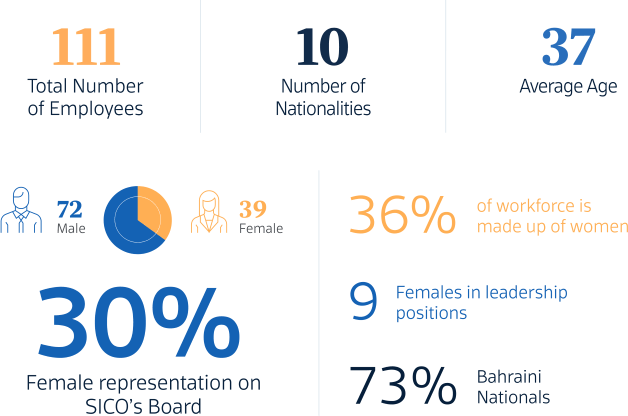 Female empowerment and gender equality in the workplace are an integral component of SICO's core values. Since 2014, the Bank has been under the leadership of Najla Al-Shirawi, the Bank's first female CEO. In 2017, we established an Equal Opportunity Committee under the auspices of SICO's Charter for Gender Diversity. The committee is tasked with ensuring equal employment opportunities for men and women at SICO as well as identifying areas in which our policies, procedures, and practices can be improved to promote gender inclusion and diversity.
SICO's Board of Directors includes three female Board Members, amounting to more than a 30% representation, and 36% of SICO's total workforce is made up of women, with nine women currently in leadership positions. Additionally, four of subsidiary SFS's six board members are women. The Bank's Gender Balance Committee is tasked with identifying gaps in the workplace, issuing recommendations and actions plans, and implementing policies and procedures that aim to cement the principles of gender balance in the workplace.
SICO has also emphasized the representation of Bahraini women among its workforce. Out of 74 Bahrani employees at SICO and SFS, 38 are women (>51% of our total Bahrani workforce). Additionally, Bahrani women occupy seven Grade 3 and higher positions, while eight Bahrani men occupy Grade 3 and higher positions.
| | | | |
| --- | --- | --- | --- |
| | Male | Female | Total |
| SICO BSC | 55 | 36 | 91 |
| SICO FUNDS SERVICES | 7 | 3 | 10 |
| SICO FINANCIAL BROKERAGE (UAE) | 9 | 2 | 11 |
| SICO CAPITAL | 21 | 11 | 32 |
We believe that fostering a welcoming professional environment, promoting healthy competition, and rewarding exceptional achievement are key to maintaining employee satisfaction and retention.
The Bank is committed to cultivating the talent of our employees through mentorships at all levels within the organization, proper succession planning and promoting from within, as this helps us strengthen institutional memory and ensure the stability of our operations. SICO continues to provide career development opportunities by offering funding for employees to further their education and professional qualifications such as CFA. SICO currently employs 15 CFA holders. The Bank also regularly hosts training sessions in order to further build the capacity of its employees and support them in their career progression.
2021 Trainings: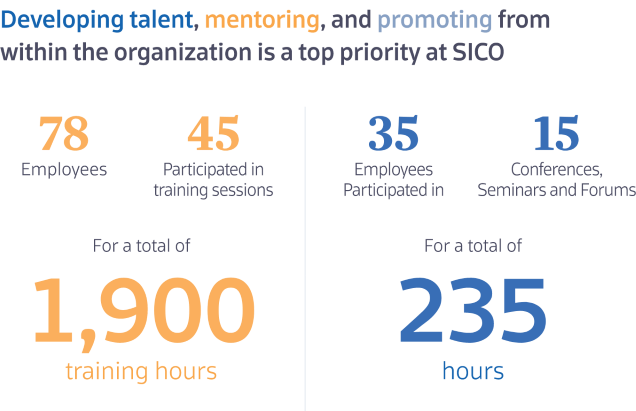 SICO strives to be considered an employer of choice in Bahrain and actively works to offer employees an array of benefits that surpass the minimum requirements under Bahraini labor law.
In 2021, SICO continued to prioritize the health and safety of its people during year two of the COVID-19 pandemic. The Bank conducted a health checkup for all employees aged 35 and above for women and aged 40 and above for men. SICO is committed to promoting a flexible work environment for the wellbeing of all its employees.
In an effort to provide the best support for staff and ensure optimal work-life balance, SICO is offering Work from Home (WFH) options. SICO's WFH Policy aims to improve employee wellbeing, increase job satisfaction, improve productivity, and ensure that SICO continues to retain employees and attract talented new applicants. SICO employees are also given 30 annual leave days (excluding the sick leave balance) in order to further promote a healthy work-life balance.
The Bank also offers an array of additional support services in order to integrate family needs into the work environment. Among these services are:
1. Children study allowance (offered to Grade 3 employees and above)
2. Life insurance
3. Medical insurance covering immediate family members
4. Flexible working hours
5. Health club allowance (offered to Grade 4 employees and above)
6. Paternity leave
7. Enhanced building accessibility for people with disabilities
8. Inclusion of women and family needs in building design (such as including lactation rooms in offices)
9. WFH policy (effective since March 2022)
As part of SICO's ongoing desire to improve employee benefits, we are introducing a new employee savings scheme (ESS), which is expected to officially launch in Q3 2022. In 2021, SICO also rolled out its first annual Employee Engagement Survey with LAWES, a globally renowned survey designed to measure engagement. The survey allowed SICO to take an in-depth look at criteria specific to the organization and to identify strengths and weaknesses. SICO's overall engagement index score stood at 4.33 on a five-point scale, which places the Bank well above the 75th percentile. The excellent score revealed that SICO's staff is highly engaged, which generally translates into higher levels of growth, profitability, and innovation across the organization. In addition to its internal policies to support gender equality, SICO also sponsored a social impact program overseen by AIESEC in Bahrain, "Impact Bahrain: Women Empowerment", in collaboration with local organizations, Afkarech and Awal. The program was operational from December 2019 until February 2020.